About Indiana Home Comfort Solutions
Accreditations & Affiliations

Achieving total home comfort requires a number of conditions. Proper heating and cooling functionality is essential, as well as pure indoor air quality to maintain health. Servicing your HVAC system as well as your ducts and ventilation will ensure your comfort at home. Furthermore, efficient heating and cooling and sealed ducts will save you money on your energy bills - an opportunity too good to pass up!
Previously named Lindley Heating & Cooling, Indiana Home Comfort Solutions has over 20 years of experience in the heating, cooling and ductwork industry. We can install, replace or repair a variety of heating and air conditioning solutions. We also specialize in ductwork, and in particular we use the advanced Aeroseal system to effectively seal any duct leaks you might have – which, in turn, promotes air flow and air quality. Finally, we can also help with insulation and energy needs through use of our home energy audits. Our competent technicians receive ongoing training to remain up-to-date on industry standards. And, most importantly, we care about you! Together we know we will succeed in giving you the home environment you deserve.
About the Owner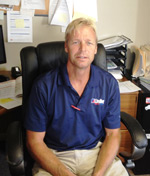 Steve Lindley
Steve Lindley started Lindley Heating & Cooling in 1993 as a small business with only one employee – himself! Steve has always had a passion for making a difference in people's lives. He began in the home improvement industry with a landscaping summer job, and he always liked to see the difference in the appearance of the house. He did the same with heating and cooling and enjoyed how much customers appreciated the repairs. Over the years Steve and his staff have completed ample training and continuing education about indoor environments, teaching them to look at the entire internal environment instead of just offering a furnace or an air conditioner to solve all the client's needs. Steve always looks for ways to better serve homeowners, and it all started with becoming a Carrier 360 dealer, Building Analyst and Envelope Professional.
Steve was born and raised in the same county he currently lives in and graduated from Tri West High School in Hendricks County. Outside of work, he enjoys water sports, snow sports, golf, fast cars, riding motorcycles and spending time with family and friends.
Our Mission
Here at Indiana Home Comfort Solutions, our mission is to provide our clients with the most comfortable, healthy, safe and affordable home environment possible by acting with trust and integrity. We work hard to achieve complete customer satisfaction and maintain your wellbeing. And we are always happy to answer any questions you may have!
Our Awards and Accreditations
We pride ourselves on our many awards and affiliations that prove our prowess in the HVAC industry and allow us to best serve our customers. We are a North American Technician Excellence (NATE) certified dealer, showing our specialization in heating and cooling systems. As a Carrier Factory Authorized Dealer, we are experts in home energy and indoor air quality. We are also a member of Angie's List and have received the Angie's List Super Service Award several times, honoring our dedication to our customers and their happiness.
These organizations have recognized Indiana Home Comfort Solutions's worth, and with their support, we feel well equipped to handle all of your HVAC, ductwork, and other needs!